Fairy chimneys. That's what they're called. Fascinating volcanic rock formations fashioned through centuries of wind, rain and river flow.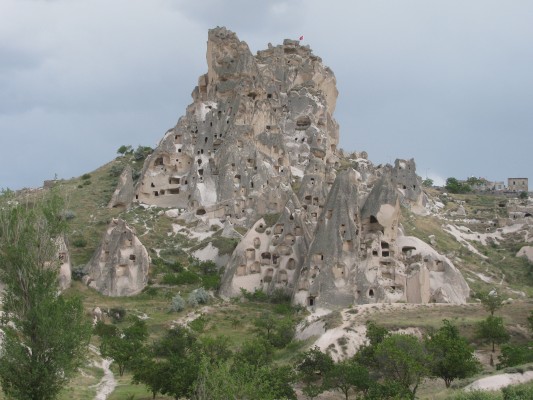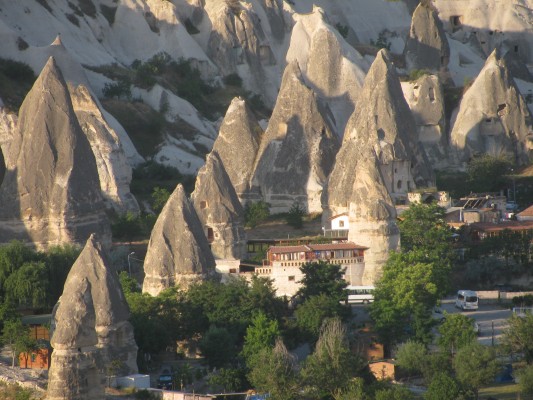 Cream colored, pink, yellow even. Many are caves that were lived in by hermits long ago, later by Christians who carved monasteries into the caves, painted beautiful frescoes on the walls and ceilings, often still perfectly intact today. Other caves were bedrooms, kitchens, wineries and granaries. Little covered ledges were carved into the sides of the rocks for pigeons to roost, the dung collected by farmers to fertilize their crops planted around and between the rock formations. Long, thin slits were cut into the stone for bees to nest, producing honey for the local people.
Elsewhere, vast underground cities connected by extensive tunnels, led to living quarters, stables, ventilation systems and wells, eight stories deep.
These housed as many as 60,000 Christians who sought refuge from invading Arabs for up to three months at a time.
This is Cappadocia, a magical place in central Turkey, an hour's flight from Istanbul. Here, you can hike in the valleys, climbing onto the rocks and into the caves, imagining what life was like one thousand years ago.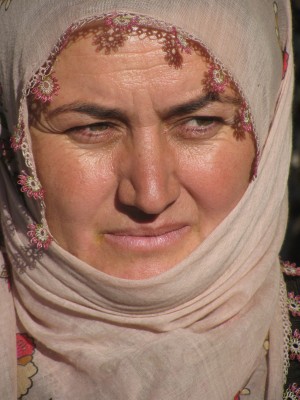 You can go up in a hot-air balloon at sunrise and get yet another perspective of this whimsical-looking place, where you are aloft with dozens of other brightly colored balloons, rising up and then descending into the valleys on the air currents, so quiet and serene.