After a week of challenging hikes in Alaska's magnificent Denali National Park (the featured photo on this postcard is of Mount Denali reflected in Wonder Lake on a dazzling day), I change gears and head to Homer, a small town 123 miles (as the crow flies) southwest of Anchorage, to go on a bear excursion.
Our journey begins at the minuscule Homer airport where nine of us and two pilot guides don hip-high waders and board two six-passenger prop planes for the thirty minute flight to Lake Clark National Park located across Cook Inlet from the Kenai Peninsula. The planes land on the beach at low tide in a blustery wind. After alighting onto the sand, I add a fleece vest and a windbreaker to the wool shirt and down jacket I am already wearing, and also put on a hat and gloves. It is mighty cold.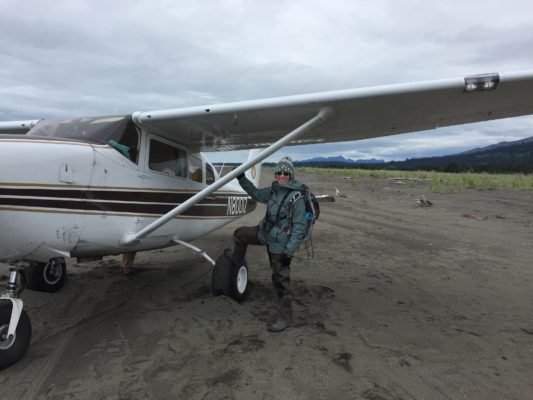 Lake Clark National Park is home to two or three thousand coastal brown bears (known as grizzlies inland). Almost at once we spy a pair of siblings far away where the tide has gone out. We walk single file through the shallow muddy water a respectable distance from the bears and stand still while watching them dig energetically for razor clams,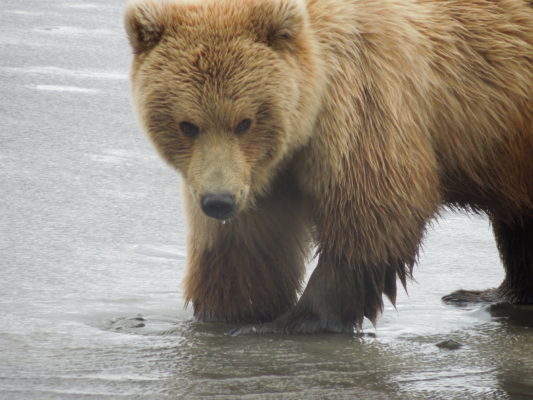 one of the three foods they endlessly consume over the short Alaskan summer in order to bulk up for the long Alaskan winter. They saunter within a few feet of us with hardly a glance in our direction.

After awhile, we change venues, leaving the beach for a broad open meadow covered in sedge, a grasslike plant that is the second of the three foods* the bears devour ceaselessly for hours (and I know this because we watch for hours!). At first, we are entranced by a solitary bear munching the wet sedge,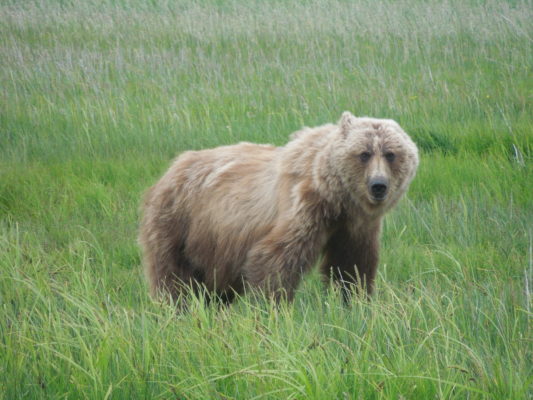 when our attention is drawn to three bears grazing together, a mama and her two cubs. They likewise pay us no mind as they come very close to us.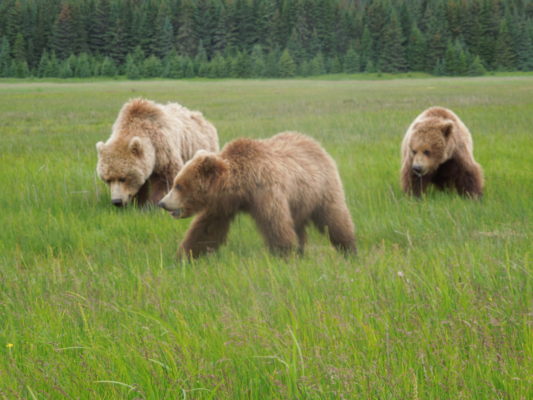 No sooner do we settle in to gaze at this threesome than we become mesmerized by a mother and her two tiny four-month-old cubs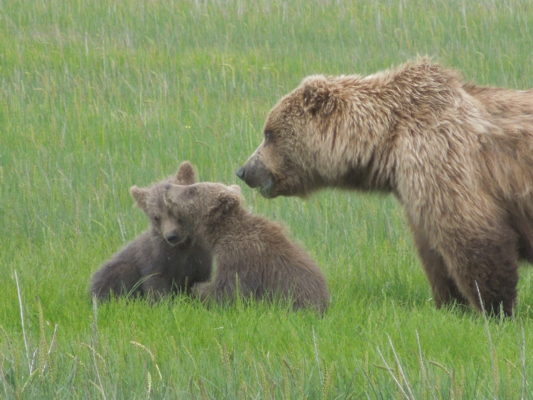 (cubs are born each year in February in the den during hibernation) that are cavorting at the other end of the meadow. They are just adorable.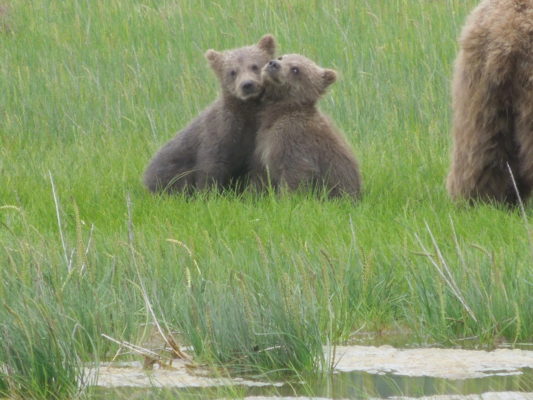 All told, there are as many as eleven bears at once in our view, although the singletons do not interact with any of the others nor do the threesomes socialize with the different families. It is quite an afternoon!
*The third food is salmon which won't be available until after spawning in early August.