The adventure begins very early in the day on two six-seater Piper-Cherokee airplanes that take nine travelers from an airfield in San Diego to Las Animas Preserve located about half way down the Baja Peninsula on the Sea of Cortez. The weather is clear and warm. We fly over a desert landscape, stark mountains rising more than ten thousand feet, to an airstrip in a tiny town a five hour drive from the next nearest town. We then board a small boat that bumps and speeds past guano-covered islands populated by gulls, cormorants, blue-footed boobies, red-billed oyster-catchers and pelicans, to a pristine white sand beach where our lodging for the next three nights is situated. There are eight rustic yurts and a main yurt, the gathering place for meals.

I begin to unwind, easily leaving city life behind in this remote and beautiful place.
I awaken to a riot of sounds outside my door: the cawing and screeching of birds, the barking of sea animals, the gentle rolling of waves. When I open my eyes and sit up in bed, I see the sun rising over the water between the mountains.
The days are leisurely but active. Hiking, snorkeling, kayaking, paddle boarding.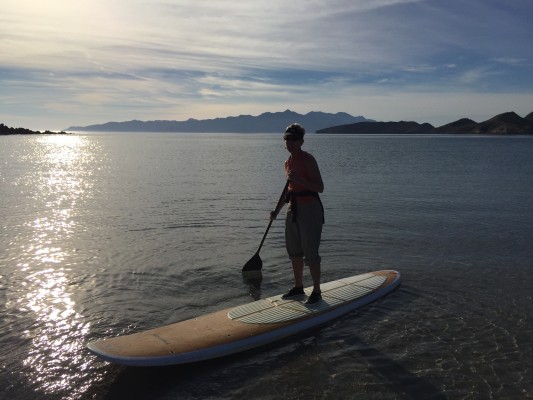 One morning, I put on two wetsuits, hood and gloves to swim with the sea lions in the bracing sixty five degree water. The sea lions dart and bolt all around me, graceful, acrobatic. We make eye contact. Their gentle gaze and kind faces make me feel that they are enjoying my company as much as I am theirs. Another morning, we go by boat to a mangrove stand, unique in a desert environment. Nearby, we search for oysters and dig for clams that we bring back with us for the cook to fix for tonights dinner. Some of the group go fishing and catch barracuda, grouper, and ling cod, also deliciously prepared for us.
On the fourth morning, we fly west across the Baja Peninsula to a town called Guerrero Negro on the Pacific Coast. Here, we spend three days at Ojo de Liebre, one of the three lagoons to which grey whales come from Alaska at this time of year to mate or give birth.
What an experience this is! Each panga carries five of us and the boat operator. The water teems with dozens and dozens of whales mostly mothers and their calves.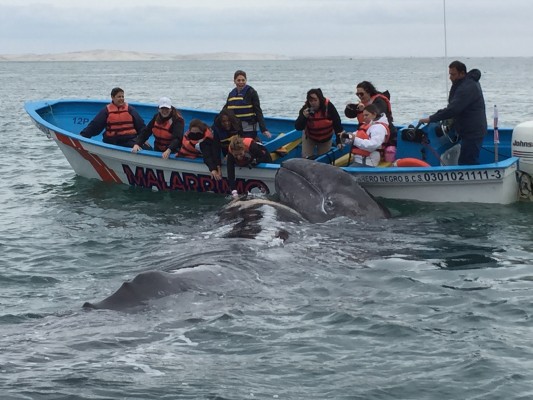 They are everywhere heaving their huge bodies to the surface to breathe, gliding side-by-side, moms and babies, coming oh-so-close to the boat, spraying us with their breath. Where to look? There's one spy-hopping.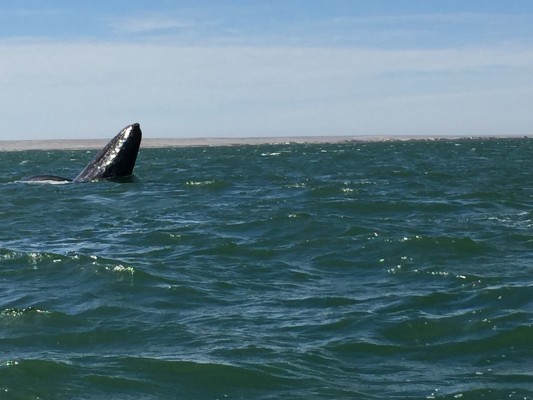 Another one appears to be waving at us with her flipper. A baby comes up and shows her sweet face. A huge one shows her fluke as she passes beneath the front of the boat.
And finally, the piece de resistance. That for which I was most hoping. We go out again this morning, all nine of us, our guide and the panga operator, to a different part of the lagoon. Again, we see many, many whales. Most swim parallel to the boat or swim away. Then unexpectedly, a mother and her calf swim directly to the boat.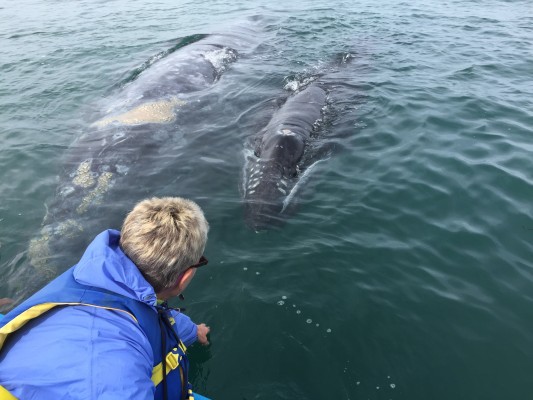 They let us pet and kiss them!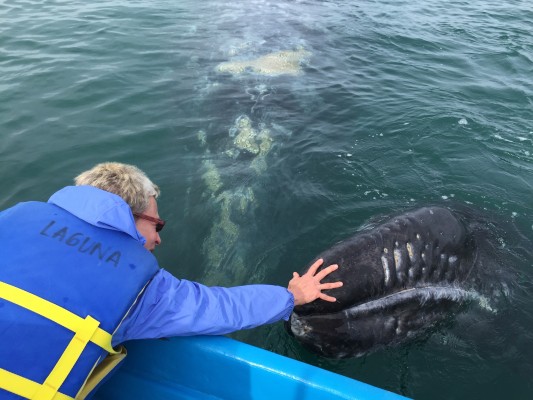 We are beyond thrilled. They stay a very long time. Unbelievably, they are joined by another mother and her baby. We are surrounded by these huge mammals. And I feel a tremendous exchange of affection and trust between the species. Unforgettable.