By the time we drop the car in Inverness, Juliet has driven one thousand seventy miles. I think she is very happy to leave the driving to someone else going forward. We meet our fellow hikers and guides on a brilliantly warm and sunny day and set off for two weeks of adventure in Scotland. I have yet to figure out how much hiking I will or should do.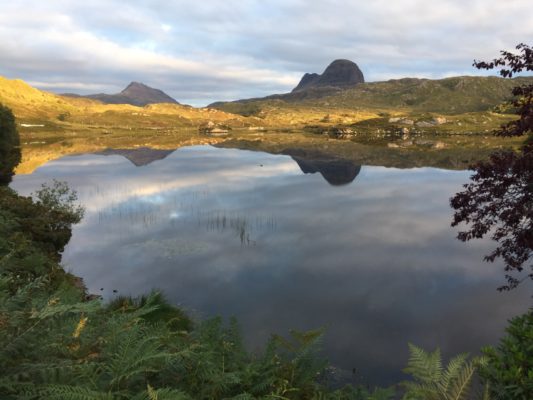 Scotland has more than six million inhabitants of whom the vast majority live in the central part of the country between Glasgow and Edinburgh. Outside of the mainland, there are seven hundred ninety islands of which ninety-four have a permanent population. There are few trees anywhere because, as in Iceland, the Vikings cut them down and used the wood to build boats and houses. In the western Highlands where we are spending most of our time, the average annual rainfall is one hundred eighty inches, one of the wettest places in Europe. It's no wonder everything is so green! There are thousands of sheep that keep the grasslands under control. The landscape is stark and rugged.
Soon enough, the gorgeous weather is replaced by heavy rain, cold temperatures and howling wind. We are told this is normal. After doing a five mile hike one day, carefully watching the placement of my right foot with every step, I take the next day off. This turns out to be a very wise decision when the group returns seven hours later, soaking wet and reporting gale force winds and terrible footing. Meanwhile, I have spent the day reading in the great room of our lodge sitting by a roaring fire!
We take a ferry across the Hebridean Sea from the mainland to the Outer Hebrides and, on the Isle of Lewis, walk along the coastal cliffs high above the sea to the Butt of Lewis (no kidding). The grass is soft beneath my feet. The wind blows fierce, the sun sparkles despite a gloomy forecast. The water crashes violently against the giant rock formations spraying foam all around us.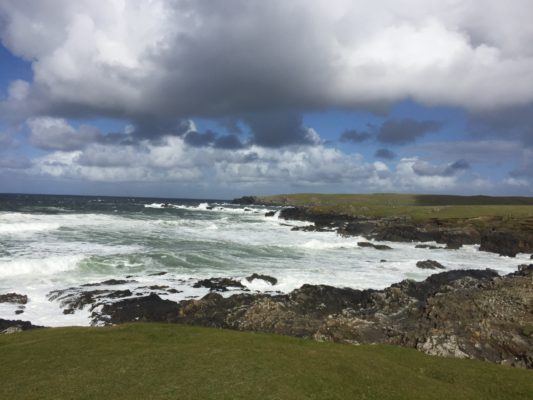 Our able guides tell us about the long and sometimes brutal history of Scotland as we visit the remains of important historical sites.
Another day, on the Isle of Harris (home of Harris Tweed woolens) we hike a short but steep mountain called Toehead that is smothered in heather—purple, pink, orange, yellow.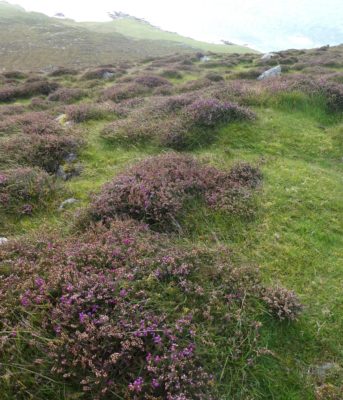 Going up is manageable, going down not so much, the poor toe twisting and turning in my boot. In addition to being mindful about where I put my right foot, I have mud and sheep poop to negotiate. All of this takes a lot of energy. So I skip the following day reputed to be the hardest hike on the trip and instead meander around the tiny town of Tarbert where we are staying.
Then the weather takes a turn for the worse. We take a ferry to the Isle of Skye and hike all day in a downpour through moody and misty volcanic scenery. Thankfully afterwards, we stop at a picturesque hotel and drink local whisky at the art-filled bar.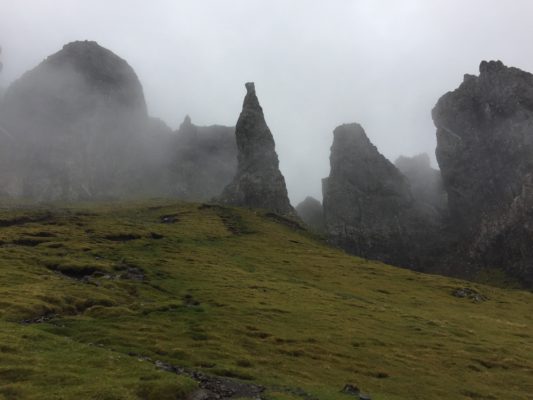 Our final hike on a mountain called Cairngorm, located in a large National Park of the same name, involves a very steep uphill climb in incredible wind with gusts of sixty miles an hour. I wear four layers of clothing and can barely stand up straight. In fact, the last bit has us clinging to a rope while we traverse ice-covered stones and try to remain upright. At which point, I turn around and go back to avoid what surely will be a calamity for my battered toe. I then make a very slow descent over the precipitous rocky terrain to safety. What a relief!
I am happy I decided to come to Scotland in spite of my fractured toe. It became a different trip than I expected and my experiences were different from those I would have had had I not been hobbled. It proves true for me yet again that the unanticipated often makes the more memorable adventure.