It was quite an ordeal to get here. One flight cancelled, then a second. Blizzard in Boston closed down the airport. Will I make it? I've never been to Newfound Lake in the winter, and now my opportunity is being jeopardized.
I finally arrive at Logan but the buses to Concord, New Hampshire are canceled due to the weather. I stay at an airport hotel overnight and take a bus at 6:45 the next morning. My friend, Audrey, meets me at the bus depot and takes me to her condo on Newfound, just steps from the lake. The view, sparkling in summer, is now magnificent wrapped  in snow.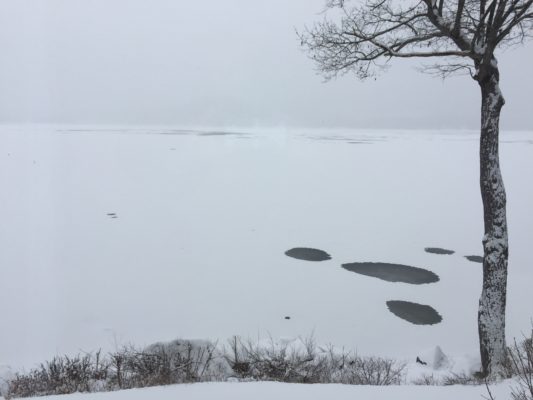 The temperature is 9 degrees with a substantial wind chill. We head over to Sugar Loaf, a low mountain across the lake, one I have hiked many times. We strap on snow shoes and begin to hike in the hushed, pristine woods. There is no other human or animal presence. We get to the outlook on Little Sugar Loaf. The view is perfectly clear and crisp, much of the lake frozen. The contrast between the blue of the partially frozen lake and the surrounding ice is dazzling.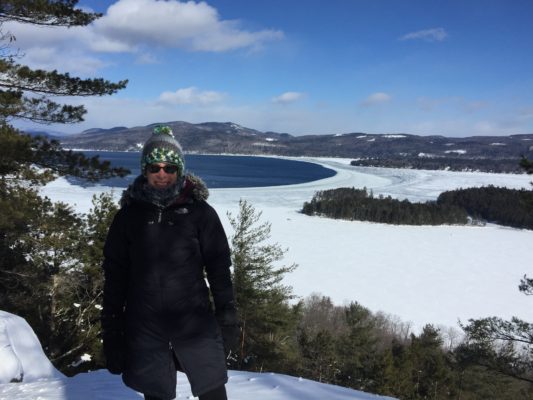 After two hours, we are back down at the lake. It is dotted with fishing huts, such an unusual sight. I'm told they have heaters and even televisions for the fishermen who spend hours patiently waiting for a catch. I walk on the frozen surface of the lake. The wind is howling, blowing the snow off the surface in great white sheets. I clutch at my coat, fighting to keep the hood over my ears. This is joy to me.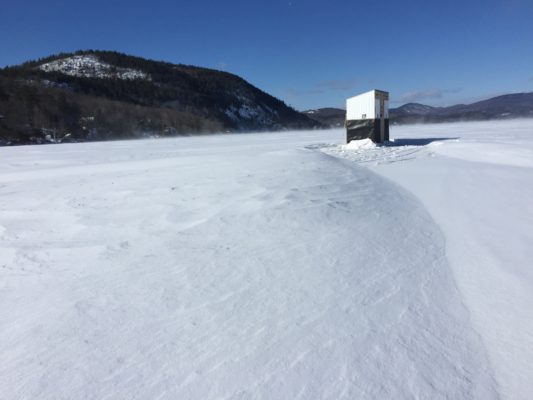 The next day, we drive up to the Mt. Washington Hotel, an historic, elegant, and grand old hotel, distinctively white with a red roof, located at the base of the iconic mountain whose name it bears.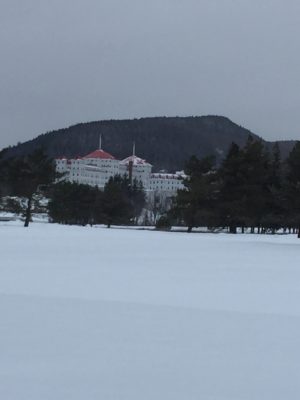 We rent skis, boots and poles and go cross-country skiing in the fresh, powdery snow. It is a winter wonderland, as we glide almost silently among the pine trees, hearing only the sound of the skis going swish in the snow.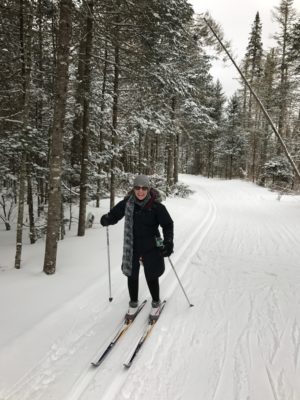 My expectations of this winter visit are exceeded. Newfound in winter is stunning and peaceful, worth the wait.