I'm sitting on the top deck of the twenty-seven meter Indonesian-constructed schooner called Shakti, my home for twelve days.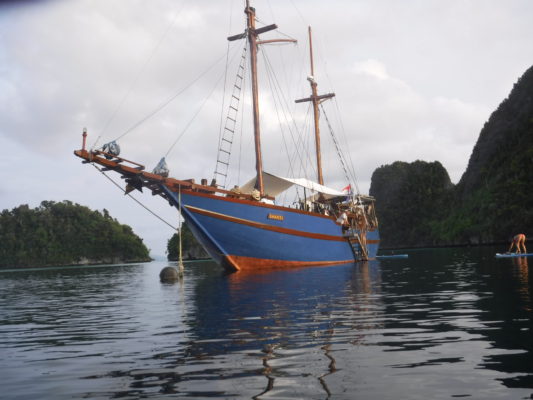 The boat gently plies the Indo-Pacific water of the Muluku Sea in which Raja Ampat, a province of Papua, sits. Raja Ampat, meaning Four Kings, is located in the far northeast of Indonesia, and is comprised of over six hundred islands out of the seventeen hundred island chain that makes up Indonesia, the fourth most populous country in the world with 230 million inhabitants. It covers one seventh of the equator's length!
There are nine of us plus seven crew, three guides and a dog. We are here to snorkel one of the most remote and spectacular coral reefs on earth and see some of the three thousand species of fish that live here. It does not disappoint. We snorkel twice a day, each time for approximately two hours, each time in a different place, characterized by different coral. Raja Ampat has optimal conditions for the growth of coral: year-round sea temperature from seventy to eighty-five degrees and plenty of sunshine for photosynthesis. There are hard and soft corals in various colors. Some look like tubes or horns,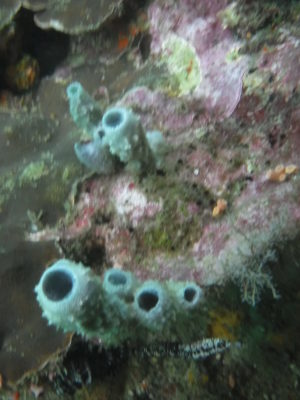 others like branches of trees, brains, elegant fans,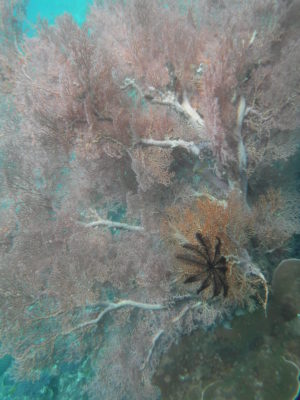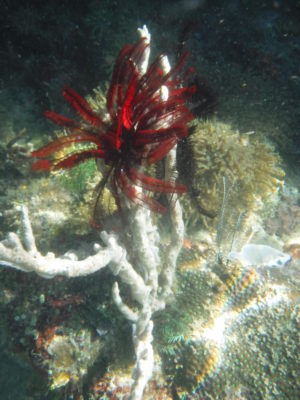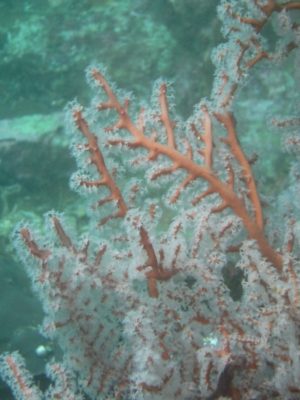 tables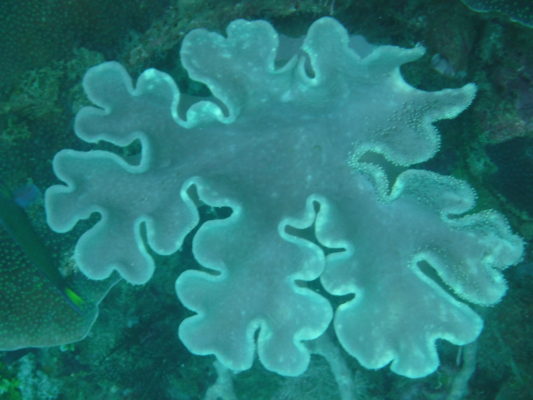 or exquisite pottery.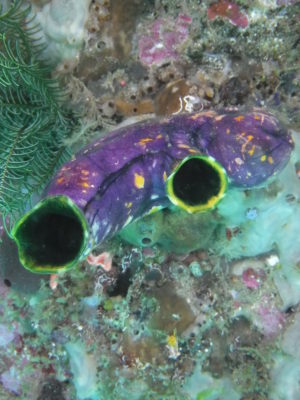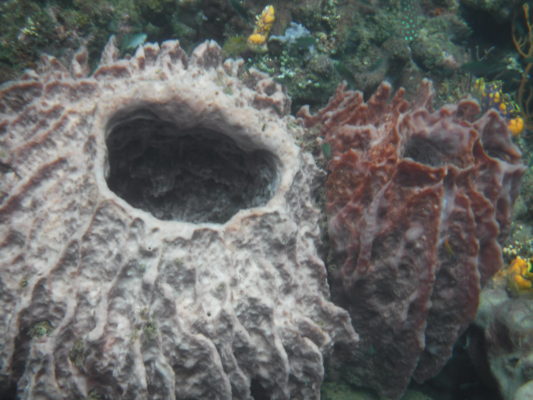 It is as though a most creative landscape architect designed acre upon acre of the lushest and loveliest underwater botanical gardens. I am mesmerized.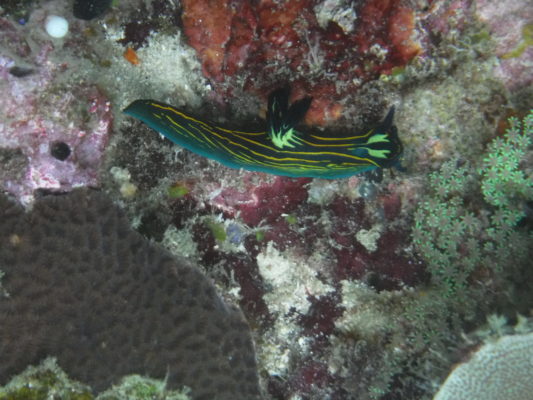 There are so many different kinds of fish that it takes the lead guide several evenings of slide shows to get through all the descriptions! There are butterfly, angel, and trigger fish, damsels, fusiliers, groupers, puffers, and my personal favorite, sweet lips, among many more.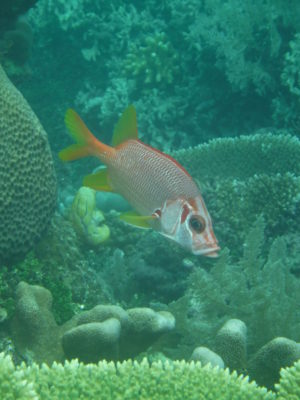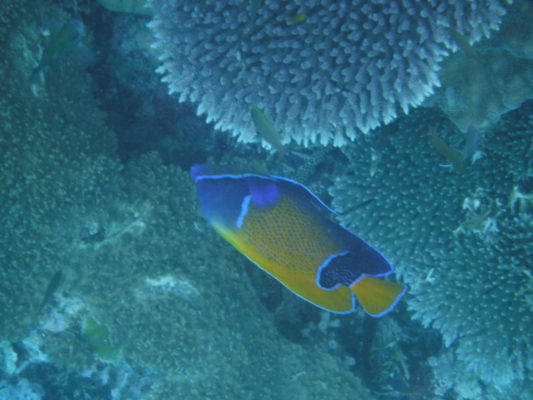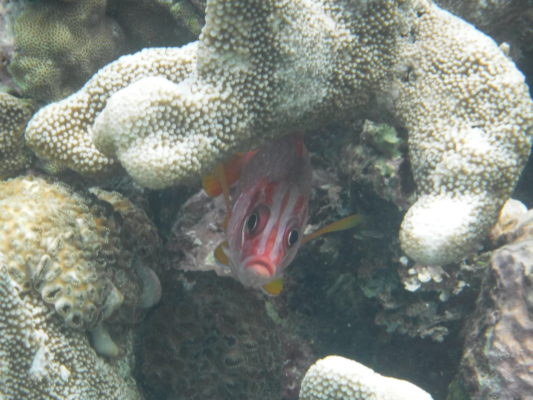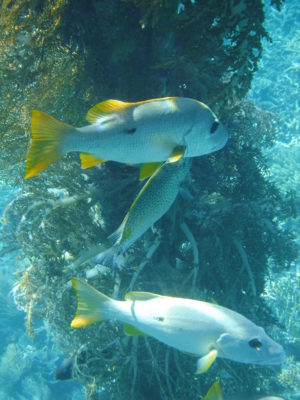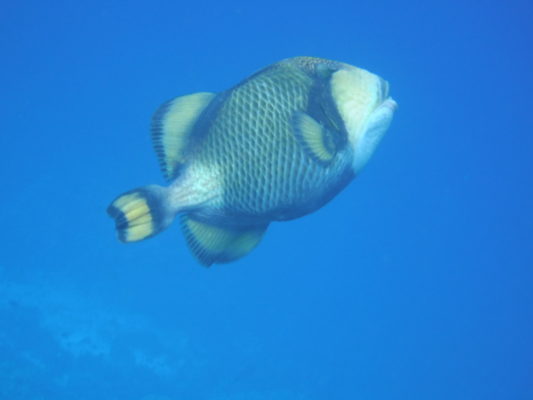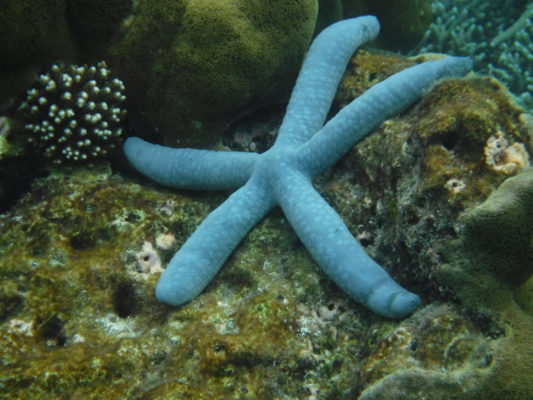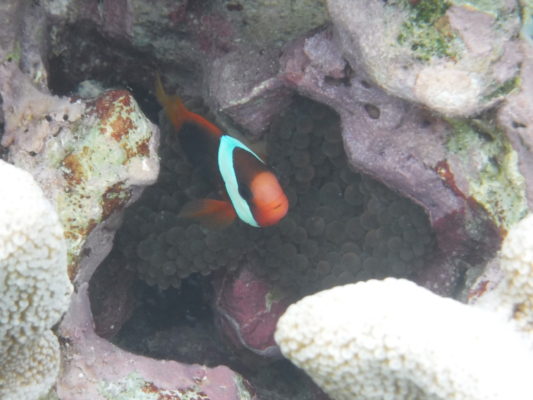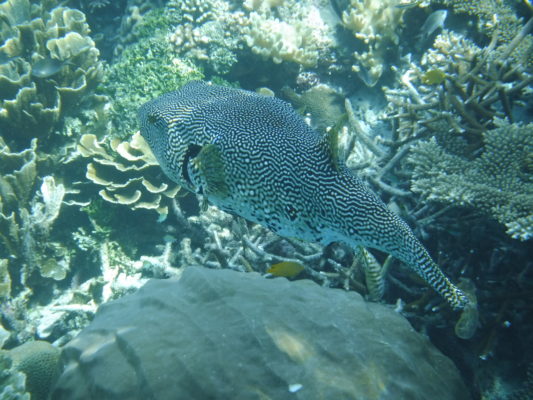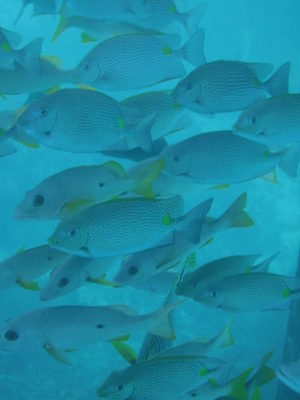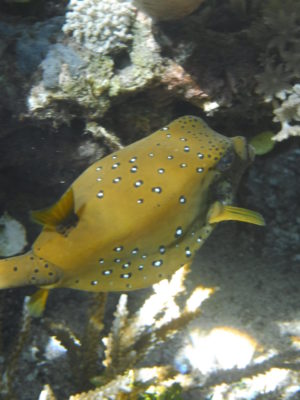 Their adornment and color dazzle the eyes. Pink, red, orange, blue, green.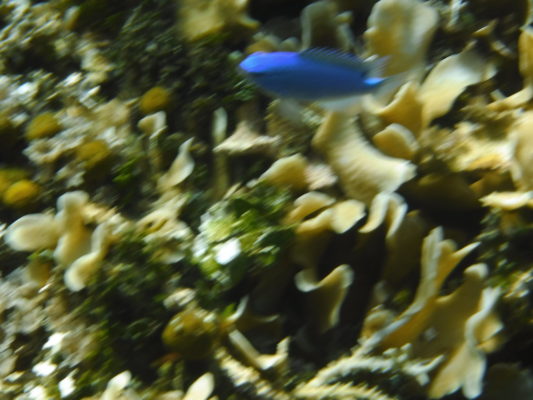 Some are outlined in the most gorgeous shades of aquamarine or neon yellow.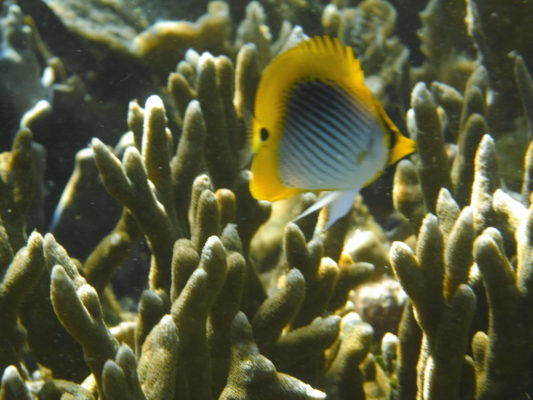 Stripes, dots, zig-zags. Pointed snouts, sloped heads, disc shaped. Algae eaters, coral cleaners, predators. Where some reefs might have seven varieties of a particular species, Raja Ampat has fifty!
My cabin is located under the galley and my daily alarm clock is the clanging of pots and pans above at 5:00 am. I'm grateful to be awakened early so that I can enjoy the quiet before sunrise up on the deck. The only sounds are the bird calls across the inlets where Shakti is moored at night.
Although the air and water temperatures are in the eighties, I get cold easily. So to snorkel, I wear a full-length body skin and on top of that, my shortie wetsuit. It's near impossible for me to get into the latter by myself due to it being very tight so I have one of the crew give me an assist by hoisting it up while I jump in the air, a ridiculous sight!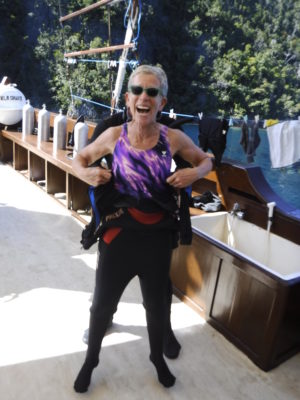 While snorkeling, I see a huge black manta ray gliding gracefully below me, a large frilly woebbegong shark rousted out of its sandy hiding place by a curious guide, a long black-tipped reef shark cruising away,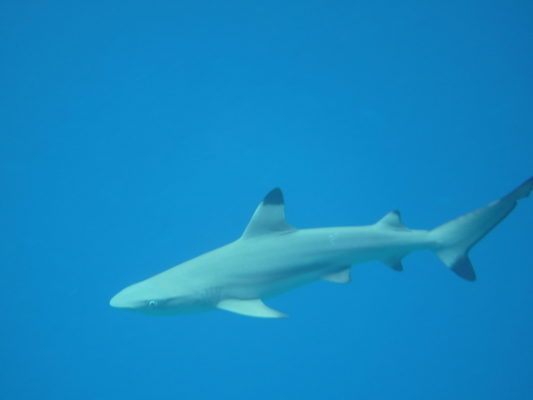 a hawkbill turtle startled by onlookers and fleeing to safety.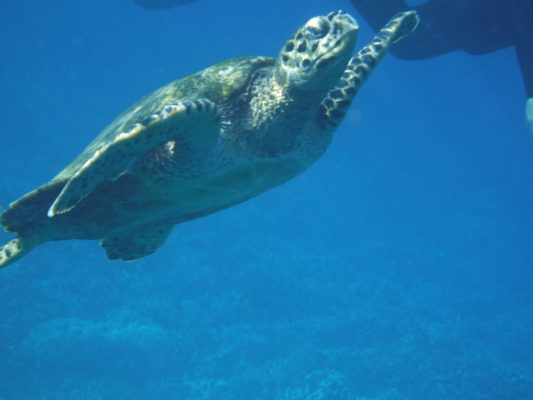 And the giant clams! Multicolored, mammoth, some five feet across, maybe hundreds of years old.

In the lagoons where we snorkel, the sea floor is a multitude of depths and is densely foliated with a plethora of textures and shapes in the most stunning shades of magenta, mauve, purple, aubergine, turquoise, royal blue, light blue, lemon, peach, and sea green. This palette of color makes me think of Monet's water lilies paintings.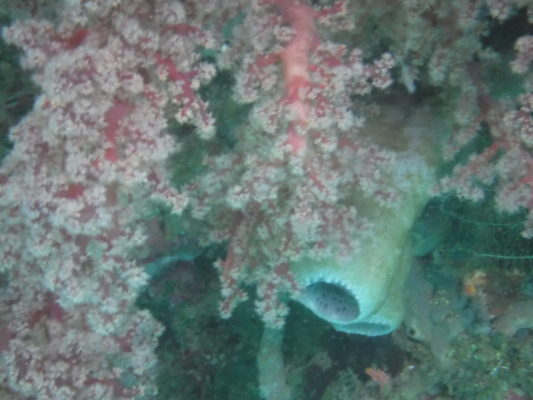 Floating just a few inches above the various corals allows me to be as close as possible to the fish swimming in and around the branches and anemones.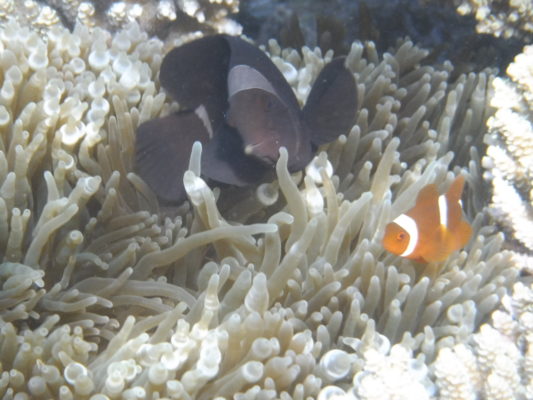 I hike to the top of a few of the many mushroom-shaped limestone karsts that rise up vertically in the lagoons and am treated to magazine-cover views of the surrounding areas.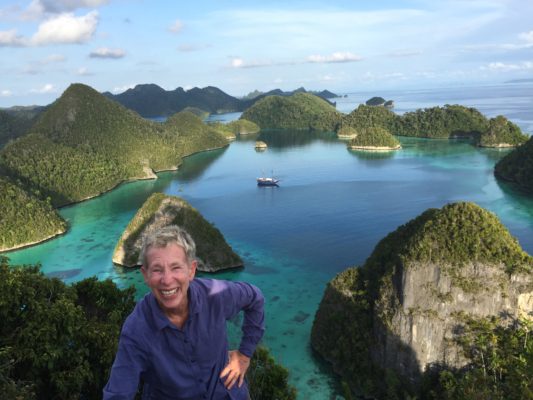 I paddle board and kayak on the placid aquamarine water. I love seeing the landscape from every available vantage point.
And yet the best is saved for last. The final two snorkel outings are, simply put, awesome. Here in the vast deep blue sea swim millions of fish, no exaggeration. It is difficult to take it all in. School after school pass by: barracuda;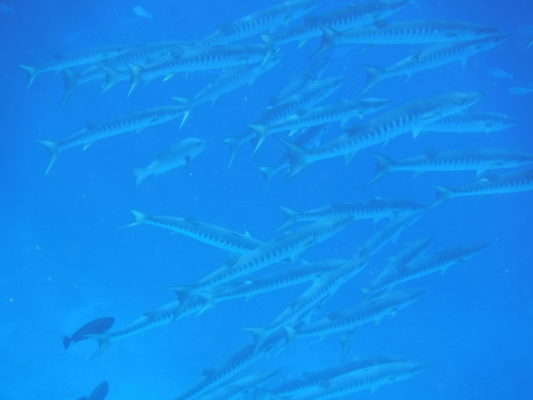 snapper;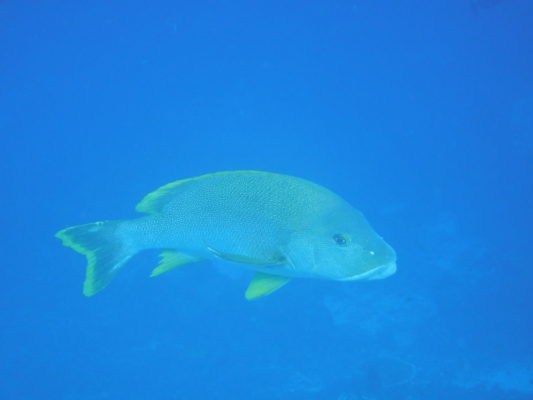 bream; surgeon; unicorn;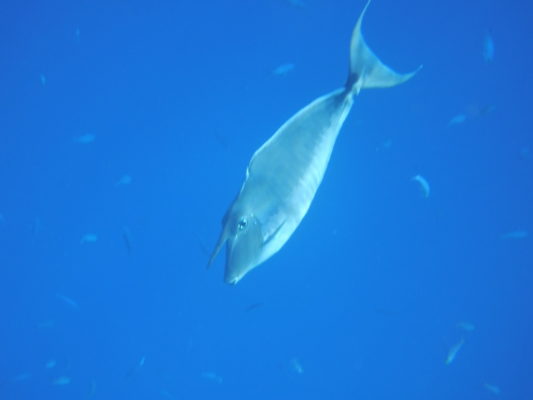 squirrel; halfbeak; sargent; wrasse; giant bumphead parrot fish. One guide counted seventy-three of the latter.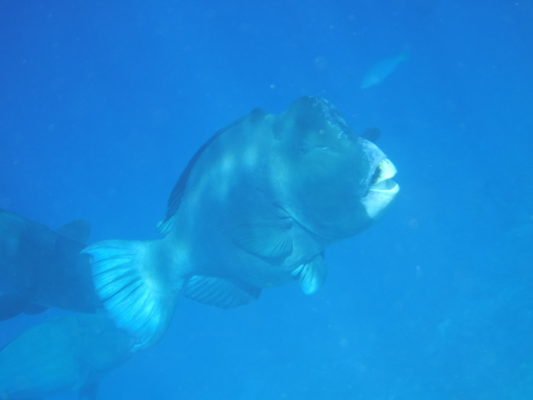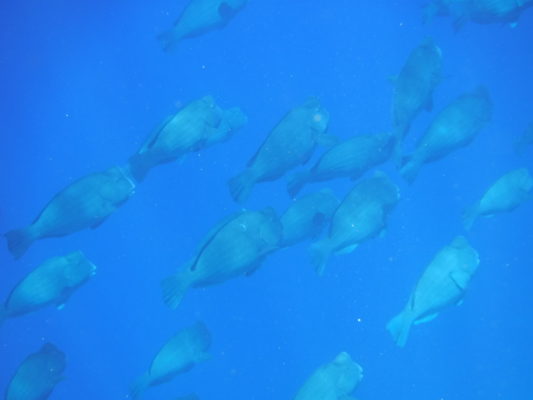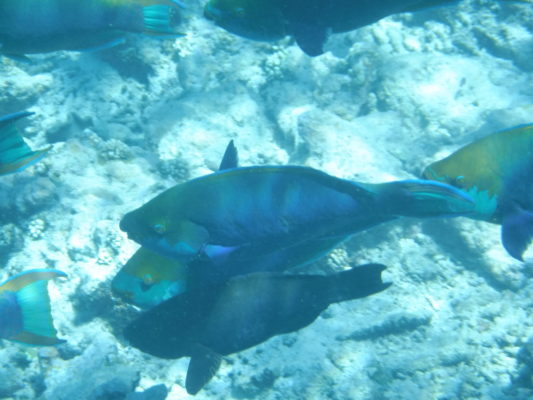 The only comparison that comes to mind is the great migration on land from the Serengeti in northern Tanzania to Masai Mara in southern Kenya. The fish surround me, every color, shape and size. Such an unforgettable and sensational finish.
​