The plane approaches Sicily, the largest island in the Mediterranean. I see Mount Etna, the most active volcano in Europe, covered in snow, looming above the cloud cover.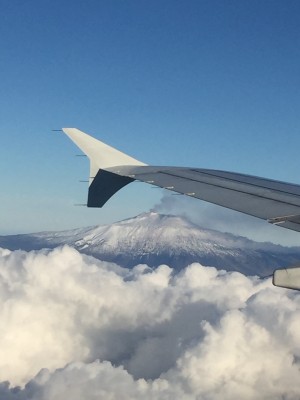 The island is remarkably developed with urban pockets among the green tracts of farmland and vineyards.
The first stop is Taormina, a typical European city characterized by narrow streets, Greek and Roman ruins, and buildings inhabited since the fourteenth century. It is lovely. I hike up to Castelmola, a mountaintop town high above Taormina, offering panoramic views of the city and the sea.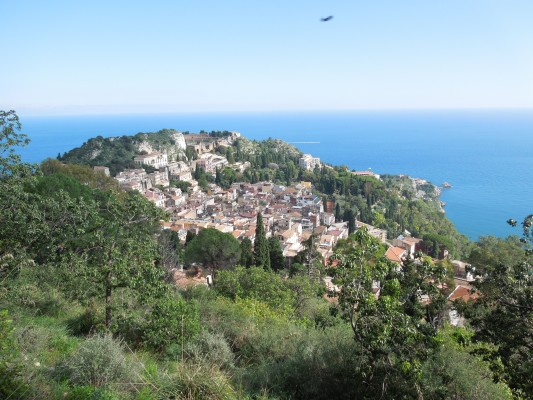 But actually, I wasn't going to send a postcard just yet. After all, I've been in Sicily just two days and the bike trip hasn't even started! But today was so much fun that I wanted to tell you about it while the I am still feeling the excitement.
I hiked Mount Etna. What a very different experience from any I've ever had. I mean hiking to the top of an active volcano. Really? The mountain is huge: 1200 square kilometers. Until 1911, there was only one active crater. Since then, there have been four and hundreds of eruptions. The volcano erupts at least once a year and twice so far in 2015.
From the base of the mountain, a cable car takes me up to an altitude of 2,500 meters. From there, a special bus with oversized wheels transports me through black lava fields as far as the eye can see.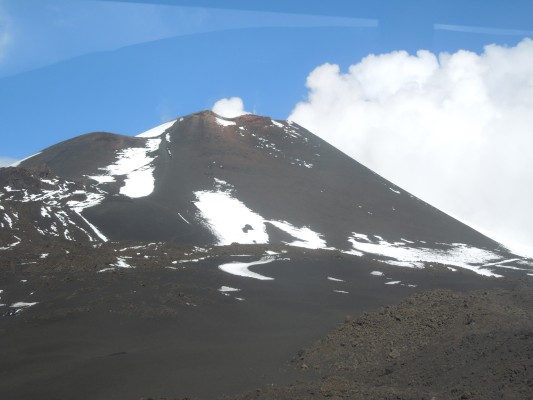 The bus leaves me in this desolate place from where I hike to an elevation of 3,300 meters (just under 11,000 feet) and close to the current "top" of the mountain (which changes as a result of every eruption).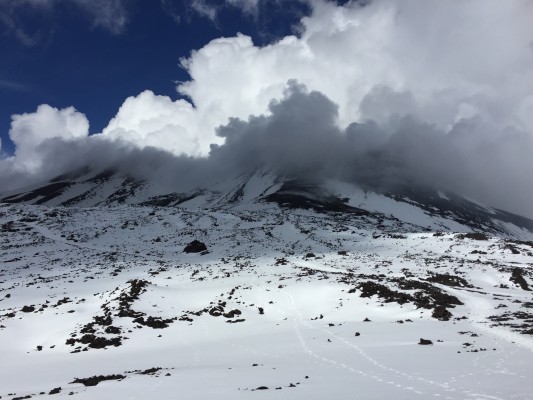 I hike (in a group led by a volcanologist) up very steep slopes, almost all snow-covered, in the thin air.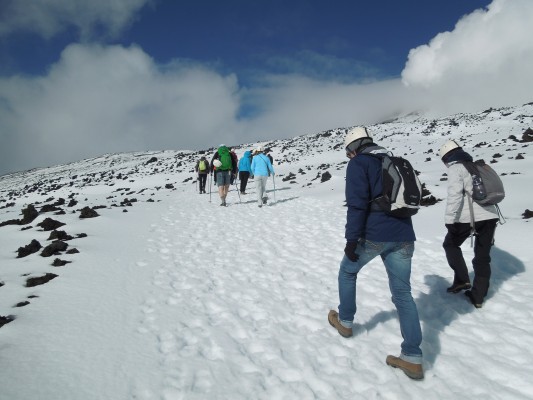 As I reach the central crater, Bocca Nuova, my senses are assaulted by a sickly sulphur smell smacking me in the face courtesy of the gusting wind. I begin to cough and my eyes start to water. The crater is obscured by clouds but I hear the crack of the explosions nearby. This is a bit unnerving. I place my hand by a fumarole, hot and humid (not to mention smelly). It warms my very cold hand.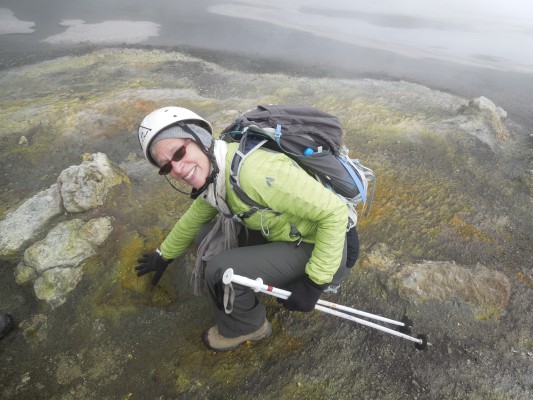 I am now wearing all the layers I've brought with me and stopping too long cools my sweat and makes me shiver.
The group leaves this active crater and hikes to other craters that are now quiet, sunken hundreds of meters into the mountain. We descend on even steeper terrain, slipping and sliding in the snow, at one point on my butt all the way down a pass.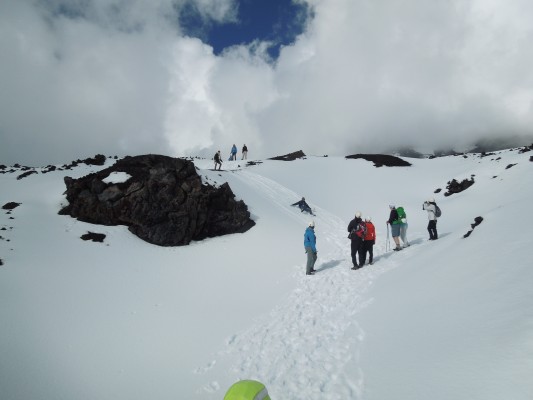 I laugh at how silly I feel (and undoubtedly look) but it is a blast.
After four hours of hiking, knees very shaky, legs like pudding, I'm on the cable car again, back to where this day's adventure began. What a unique and fascinating time I have had!