We left Taormino on a sunny, warm morning and arrived in Ragusa under a dark sky. In the afternoon, our guides gave us a dos-and-don'ts-while-riding lecture while the clouds got blacker, the thunder louder, and the temperature lower. Just as we began our warm-up ride, it began to pour. I soldiered on, sneakers turning into sponges, helmet dripping rain water into my eyes. You get the picture.
But it got worse, and I'm not only talking about the storm. I got lost. How this could happen on such a straightforward ride is hard to imagine. Except for the fact that I have a history in this regard. In any event, suffice it to say that I spent even more time than necessary in the downpour because of this. Not an auspicious beginning.
But with a new day come new possibilities! The next day, it did not rain. In fact, the weather was sunny and perfect for riding.
Of course I did spend many hours the night before with the hair dryer and my sneakers, bike shorts, gloves, etc, so they would be serviceable. And, then I rode 60 km and did not get lost, not once, while cycling through verdant countryside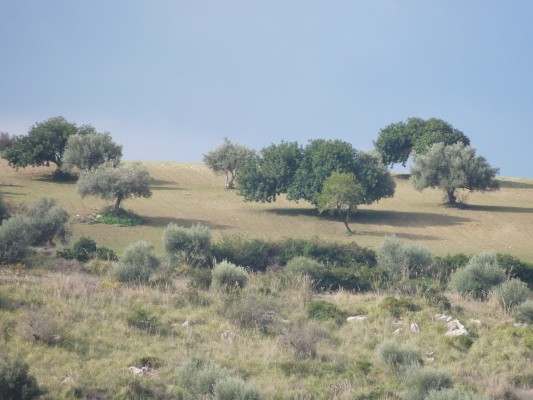 and beside the sea.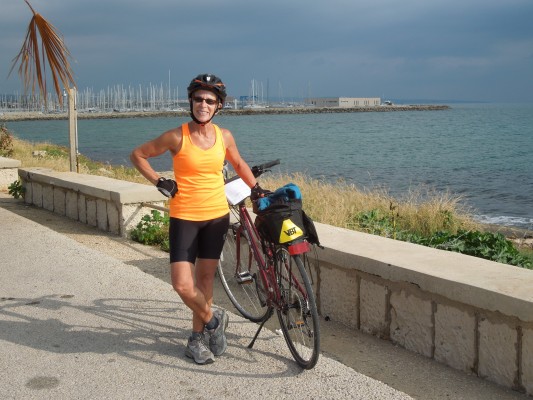 Being so thrilled about all of this, I celebrated with a delicious scoop of gelato, my first in Sicily.
Sicily was conquered thirteen times by the Greeks, Romans, Arabs, and Spanish, among many others. The influence of these various cultures is evidenced in the food, architecture and customs. In 1492 when Sicily was part of the Spanish empire, the Jews were expelled from Italy. All that remains of the Jewish quarter in cities such as Modica and Siracusa are the narrow winding alleys they called home. In 1693, there was a tremendous earthquake that leveled much of southeastern Sicily. Cities were rebuilt in grand Baroque style soon after and many of the ones we visited like Modica, Noto, Ragusa Ibla, and Siracusa, are now designated UNESCO World Heritage sites.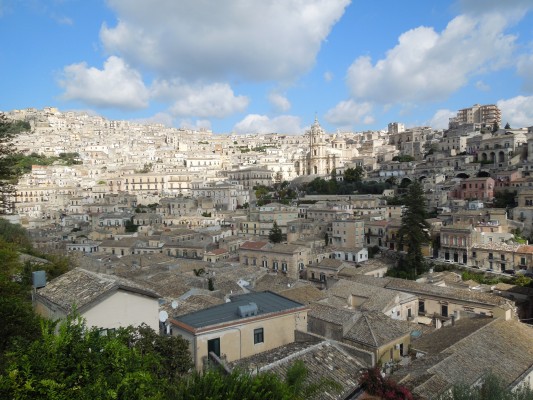 As to the cycling, the brochures and the guides are adept in the practice of euphemism. They talk about gentle rolling hills. Well there was nothing gentle about them for this girl! I labored up the many hills (there seemed to be considerably fewer downs than ups), struggling for breath while using "granny gears." One day, my butt hurt so much after pedaling 57 km, that I chose to walk the final 2 km to our hotel (out in the middle of nowhere). Meanwhile, my face was a human windshield for bugs.
The cycling was Interspersed with various cultural activities. These included visits to a chocolatier where we sampled many different flavors, an olive oil factory that smelled divine and a cooking demonstration that featured eggplant parmigiana and cannoli. I've eaten the freshest fish, luscious tomatoes, delicious cheeses, perfect pasta and imbibed some lovely wines.
All told, I pedaled 283 km (175 miles) in five days and managed not to fall off the bike or injure myself (other than a few bruises and scrapes).
And then it was on to Siracusa, specifically the island of Ortygia, where we had a tour highlighting historic ruins that were discovered serendipitously under modern structures. These buildings (now ruins) were often constructed by Greeks, modified by Romans, Arabs and Normans, converted from synagogues to churches to mosques and back to churches again depending upon the religious predilection of the conquerer.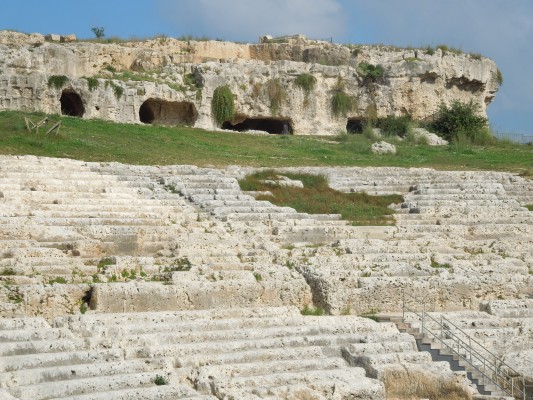 One particularly interesting discovery in the Giudecca (Jewish) quarter involved a woman who bought a spacious home about twenty-five years ago. When she began to convert it into a hotel, she came upon steps buried in the basement. Over a two-year excavation period, she (and archeologists) were amazed to find a mikveh, a ritual bath in which Jews purified themselves. The mikveh, believed to be the oldest in Europe (fifth century), was carved into limestone more than twenty meters below ground level.
So, with just one last day in Sicily, I will visit the city of Piazza Armerina and its fourth century Roman Villa, known for its grand size and splendid mosaic floors.
And then, sadly, I must bid this fascinating place arrivederci.