Sawasdee (hello) from Chiang Mai Thailand
Now imagine staying on a working elephant farm and you are temporarily part of the staff. The national symbol of Thailand is the Asian elephant, traditionally used in war and as a beast of burden. One hundred years ago, there were 300,000 elephants in Thailand. Today, there are only 3,500 of which 1,500 live in the wild. A Thai man decides to keep alive the tradition of elephants as working animals and begins a rescue and breeding program. There are approximately 90 elephants on the farm, a huge tract of land. You stay for 3 days. You are partnered with an 80 year old retired female elephant named Dokma. You help prepare elephant food, feed the animals (they eat A LOT), clean up after them (there's A LOT to clean up), give them exercise twice a day by riding them (you sit on the neck, the mahout directly behind you) through the streets of Ayuthaya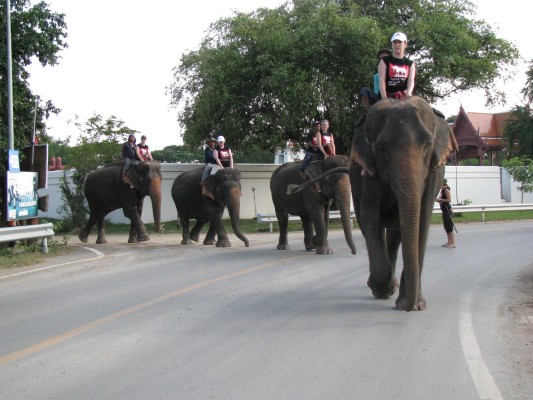 and into the river for a cool bath (needless to say, the elephant, the mahout and you all get the bath).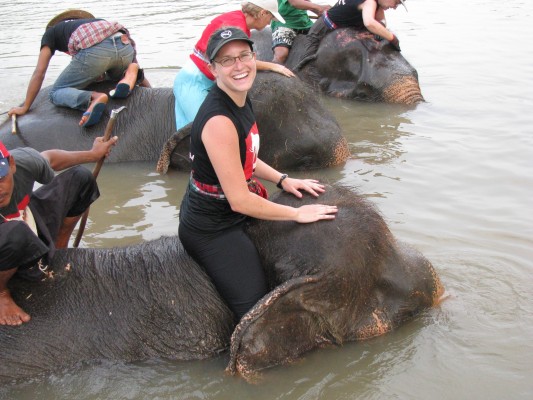 You play with the 17-day-old baby named Opal; she is absolutely precious.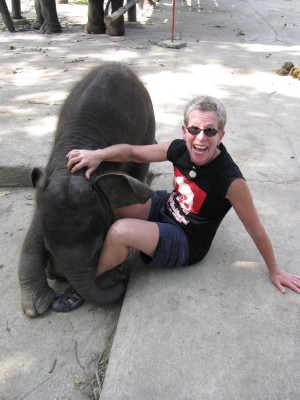 You watch Peter the elephant paint you a picture.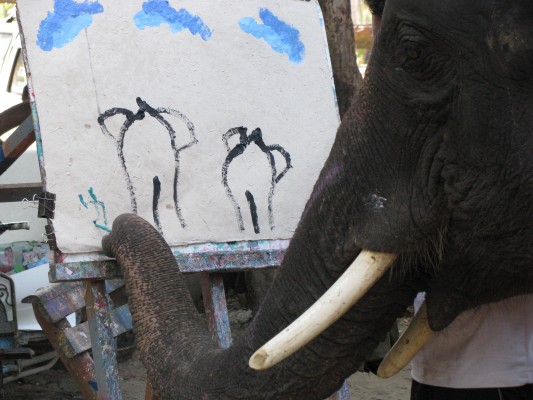 You watch the mahouts expertly direct the elephants to load and unload tons of grasses, bananas and pineapples. It is an unforgettable experience.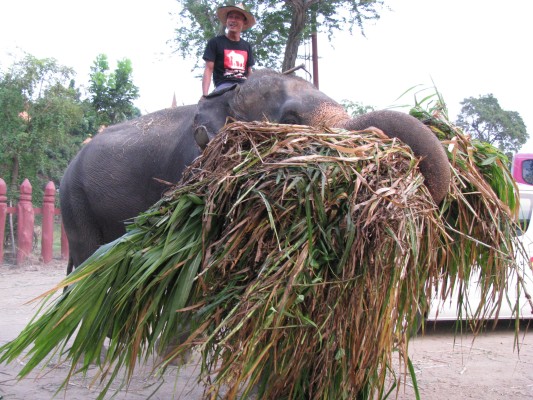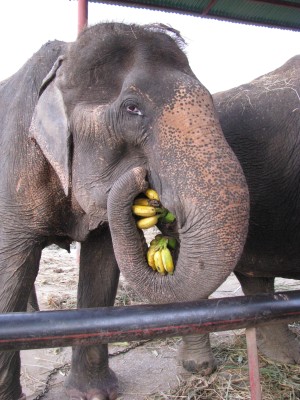 You take an overnight train to Chiang Mai and begin a trek to the hill tribe country north of Chiang Mai. It is mountainous and cool. The trekking is challenging. You are carrying all that you need for 3 days on your back. You stay in different villages each night. The people are from the Karen tribe, originally from Tibet.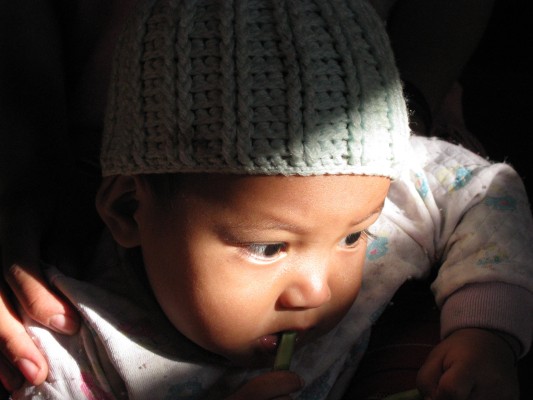 They establish villages in the mountains of northernThailand. Just 15 years ago, they are recognized by the Thai government and become citizens. Their lives have changed little. They subsist by growing and harvesting rice. They weave and make jewelry. They open their simple bamboo homes to guests. You bathe in the river. You visit the local school and sing songs with the young children. They know the same songs you sang as a child. It is memorable.
Each day, you feel so lucky to be traveling, learning and living.
Kob Koon Ka (Thank you)