It began a long time ago. That is, an intense desire to see a moose. It's not as if I had never seen one. Many years ago, I saw two off the Kancamagus Highway in New Hampshire. Before that, I spotted a few in a bog in rural Maine. I saw some in Alaska back in 1994. But all of that was ancient history. I wanted to see one now in the worst way.
In recent years, every time I visited New Hampshire, I looked and wished. My daughter, Juliet, told me that because I wanted to see one so desperately, I wouldn't. Apparently, she was right. This last summer, some friends as well as Juliet and I went on a four-and-a-half-hour nighttime "moose tour" in northern NH. We had fleeting glimpses of two moose, hardly something to satisfy my moose craving. Sadly, we learned that thousands of moose there have been dying due to moose ticks. It was clear, then, that I should have gone on this tour years ago when chances were much better.
But all that changed near Piney Lake in Colorado. My friend Sue and I had come to the Vail area to hike for a few days. She, like me, had longed to see a moose, and likewise, had been sorely disappointed with our NH moose tour. So she asked someone in Avon where we were staying if there was any place local where we might see moose. The woman confidently told us to go to Piney Lake, a forty-minute drive from Vail on a narrow, rutted dirt road where, she informed us, 80% of the people she sent there had success. That sounded like our kind of odds. So we decided to go.
Instead of forty minutes, the drive took an hour and a half. The posted speed limit was 20; we were lucky to go 10. Of course the fact that it had snowed the night before and was thirty-three degrees when we started out at 4:00 in the afternoon probably didn't help.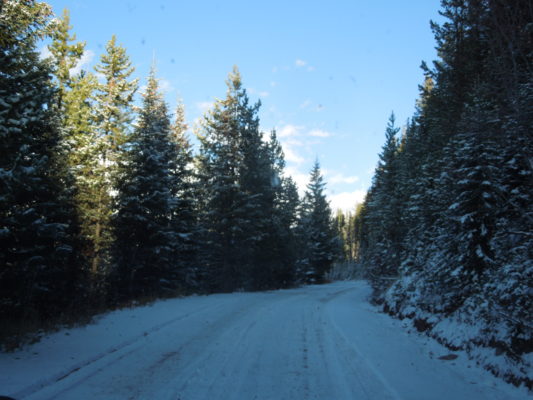 When we arrived at the lake, there wasn't a soul around. The fresh snow was undisturbed.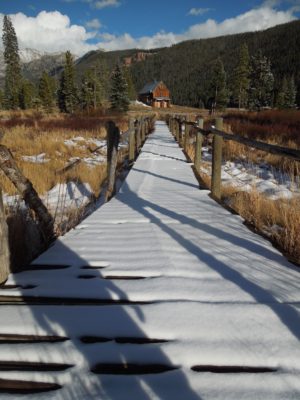 The lake resort was all locked up. The moose must have left along with everyone else. We searched the lovely lake, our eyes straining for moose.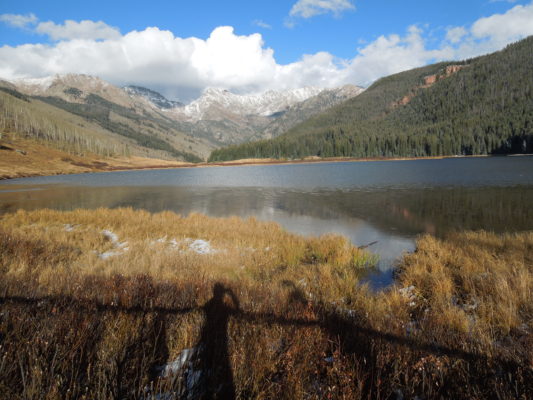 We felt crestfallen when none appeared. We had convinced ourselves that this would be our lucky day, that the lake would be teeming with moose just waiting for us. Disconsolate, we left for the long, cold, bumpy ride out.
But wait! Ahead, just alongside the road was a large dark brown animal. It had antlers. Could it be? We slowly approached. As we were admiring this handsome male moose,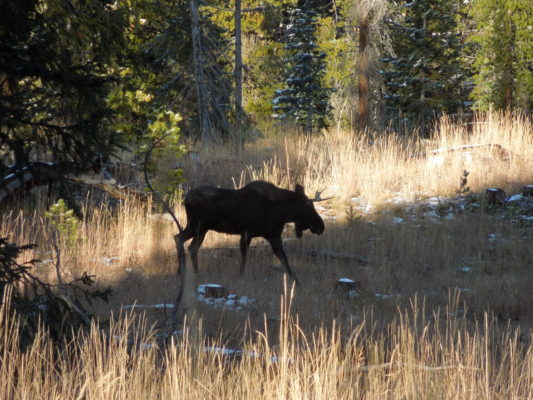 another one ran out from the other side of the road right in front of our car and joined his friend.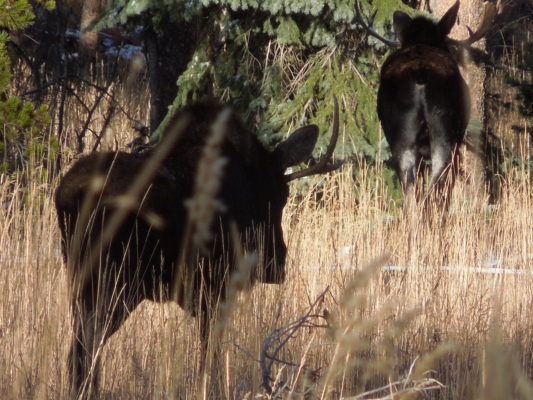 We were beside ourselves with joy. Both moose slowly walked into the woods parallel to the road. We followed them, taking pictures and congratulating ourselves on our good fortune. After they disappeared, we whooped and high-fived as though something truly magical had happened. And for us, it had!